Welcome to the Official Site for Adriana Camposano. You may recognize Adriana from one of her numerous print campaigns such as Parents Magazine and Vogue Bambini or from her Kindness Counts PSA on Sprout. Here you will find all the news and up to date information about this talented young actress. For Industry Professionals looking to learn more about Adriana, please click on her name above for an overview of information.


NEWS & UPDATES
26 Jun 2015
ADVENTURE AT WILDWOODS
Not too long ago Adriana packed her bags and was off to
Wildwoods, NJ
for an exciting photoshoot with several of her friends and
Martelli Photography
! She always enjoys doing editorial shoots with Brett and his team, and this one, entitled
"Adventure at Wildwoods"
, was for
Poster Child Magazine
. She shot her images alongside her friend
Caroline
as they had fun exploring the beach and the big huge sign and decorations welcoming visitors to the area. The images came out
fabulously
, you can really see how well the girls get along, and don't you just love the solo shots too! Images can be found in the gallery and you can also check out some of the images featured for
Poster Child Magazine
on their blog too!


Posted by: Lisa
11 Jun 2015
Orange is the New Black
Tomorrow is the big day, Orange is the New Black will be making its season three debut on Netflix! You may remember that she was seen as Lucy for an episode back in the first season and she is now reprising her role in the hit show. All of the episodes will be available at once for the season tomorrow, and Adriana appears in the brand new trailer that has been released! It can be viewed below, but viewer discretion is advised due to content and language of the show.


Posted by: Lisa
08 Jun 2015
Moda Operandi
Adriana always looks forward to a shoot, seeing different friends, photographers and finding what she'll get to do for the concept of the images. When working for
Moda Operandi
that involved getting to play with giant stuffed animals! It was a part of their
holiday
photoshoot for their
website
to which she and her friend Olivia got to spend their time hanging out with a panda, giraffe and dragon, and they had an
awesome
time doing so! The photos came out great as Adriana shared a secret with her new friend, and the girls got a kick out of sitting on some of the stuffed animals as they posed for their photos. This was one of several shoots she did for the holiday season last year, and make sure to view the images in the gallery!

Posted by: Lisa
28 May 2015
Tommy Hilfiger
A little bit ago Adriana shot for
Tommy Hilfiger
! She was so excited to work for the company and shoot for their
spring line
, now her images have begun surfacing! She can be seen in
Tommy Hilfiger Outlet
stores in a poster which features
two
of her shots. It is always cool seeing that your photos are up in stores, and with this shoot, she is being seen
internationally
too! If you have an outlet location near you make sure to pop in and see if you spot Adriana as well!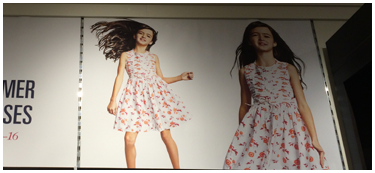 Posted by: Lisa
19 May 2015
Canon
Last year Adriana filmed a
commercial
for
Canon
! She had a great time working with the cast and crew, and the final product was a very
emotional
spot. It tells the story of a photo, how you don't know the moments that have led up to the one captured, and for this particular photo it was of her on-screen Dad. The footage showcases his journey through his cancer scare, his wife and daughter at his bedside in the hospital, and Adriana had
two
scenes in it. Of course a commercial doesn't want to have a sad ending, and you can see her in the waiting area with him before he's told that he's in remission. Make sure to get your Kleenex ready when you head over to the
media section
to view it!
Posted by: Lisa
<< Previous 1 2 3 4 5 6 7 8 9 10 11 12 13 14 15 16 17 18 19 20 21 Next >>